04 February, 2020
Women Work and Peace - A compilation of Elaben's Speeches... Published by Navjivan Trust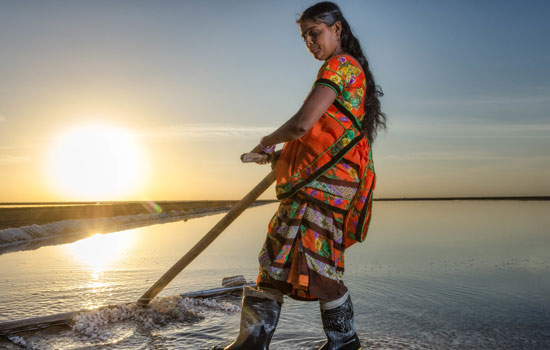 Anyone visiting the SEWA website, would be familiar with the name of Ela Bhatt, who founded SEWA in 1972. The three little words that sum up her life's work are Women Work and Peace. This is the title of a book, that has a collection of selected speeches, edited and introduced by Margie Sastry and published by Navajivan Trust. The 27 speeches of Ela Bhatt in the book WOMEN WORK AND PEACE cover a span of 40 years and give an insight into her wisdom and her work of giving voice, strength and self-esteem to thousands of self-employed women across India.
You can read about the genesis and evolution of Sewa in Elaben's own words but also "hear" many concepts that she has espoused, including the Hundred Mile Principle, The Grihini Model of International Relations and the Economy of Nurturance. The Centrality of work, Microfinance and Microinsurance are the themes of some speeches but also included are her Convocation speeches, where she shares her ideas with the graduating youth going out into the world. Khadi, Natural markets, Hawkers and Vendors, as well as the humble Jhadu or broom as a symbol of sustainability,Unions are incomplete without Cooperatives, are a few of her favourite things and get due coverage.
Each of the 27 speeches has a short precis giving a glimpse of the theme and some of them have a candid conversation between the author and the editor captured during the making of the book.
Renana Jhabvala, who has been an associate, friend and sounding board of Elaben for 35 years, has written the Preface. The introduction by the editor Margie Sastry gives a rare insight into the heart and mind of Ela Bhatt, the gentle revolutionary. The book jacket has been designed and illustrated by Somnath Bhatt.
Women, work and Peace would find relevance with those working in women's empowerment, with development, microfinance, microinsurance or with the so-called unorganised sector (which Elaben prefers to call People's sector), However, it is recommended reading for anyone interested in finding simple, practical and people centric solutions to problems around them. Although the book and the speeches predate the pandemic, the book holds many kernels of ideas that can open your mind of looking at the world anew. It is available at Navajivan Trust website. http://www.navajivantrust.org/